VT-420 VitalBand – Bitumen Flashing Tape
Description
A black bituminous compound covered by a reinforce aluminium film. It is a versatile self-adhesive tape for instant flashing applications. It is ready to apply, weatherproof, with outstanding durability and is economical.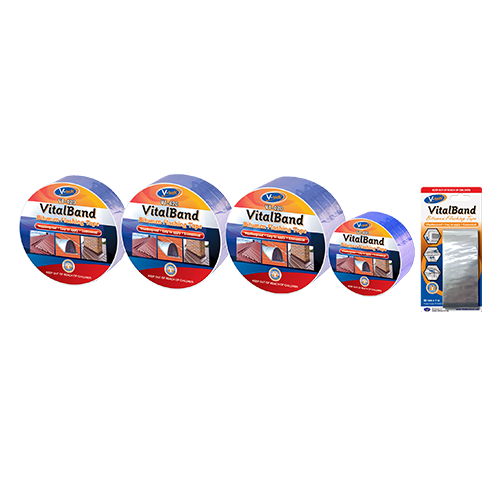 Applications
Protection: Asphalt, brickwork, concrete, fiber cement sheet, metal and plastic materials, roofs and covering etc.
Sealing & Waterproofing: Glass & plastic windows frames, parapets, skylight structures etc.
Repair Work: Metal and fiber cement sheet roofing, shingles, gutters and metal tube etc.
Product Information
| | | | | |
| --- | --- | --- | --- | --- |
| Product Code | Measurement | Thickness | Inner Box | Carton Quantity |
| VT-420501C | 50mm x 1m | 1.5mm | 12 | 144 packs/ctn. |
| VT-420503 | 50mm x 3m | 1.5mm | - | 48 rolls/ctn. |
| VT-42050 | 50mm x 10m | 1.5mm | 6 | 36 rolls/ctn. |
| VT-42075 | 75mm x 10m | 1.5mm | - | 24 rolls/ctn. |
| VT-420100 | 100mm x 10m | 1.5mm | 3 | 18 rolls/ctn. |
| VT-420150 | 150mm x 10m | 1.5mm | 2 | 12 rolls/ctn. |
| VT-420300 | 300mm x 10m | 1.5mm | - | 6 rolls/ctn. |