VT-422 UltraBand – Butyl FlashingTape
Description
A butyl self-adhesive waterproof sealing tape that grips on tight and bonds instantly. It's a premium quality waterproofing material that can be applied on most surfaces, providing strong adhesive force. With its easy-to-apply feature, it is one of the best choices for construction and industrial applications as well as household repair.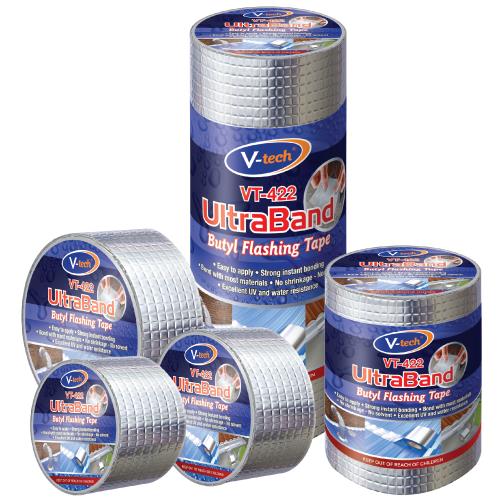 Applications
Roof - Roof water resistant, repair roof leaking, over joints and cracks in roof cladding.
Interior - Water tank, door, wall, bathroom, swimming pool, ventilation pipe, PVC pipe.
Exterior - Apply over joints and cracks on cement sheeting, masonry tiles, around water pipes, gutters, down pipes and more.
Car industry - Repair for leaking on the roof and car body.
Product Information
| | | | | |
| --- | --- | --- | --- | --- |
| Product Code | Measurement | Thickness | Inner Box | Carton Quantity |
| VT-422502M5 | 50mm x 2.5m | 1.2mm | 6 | 48 rolls / carton |
| VT-422505M | 50mm x 5m | 1.2mm | 6 | 36 rolls / carton |
| VT-4225010M | 50mm x 10m | 1.2mm | 6 | 36 rolls / carton |
| VT-422755M | 75mm x 5m | 1.2mm | 4 | 24 rolls / carton |
| VT-4227510M | 75mm x 10m | 1.2mm | 4 | 24 rolls / carton |
| VT-4221005M | 100mm x 5m | 1.2mm | 3 | 18 rolls / carton |
| VT-42210010M | 100mm x 10m | 1.2mm | 3 | 18 rolls / carton |
| VT-4221505M | 150mm x 5m | 1.2mm | 2 | 12 rolls / carton |
| VT-42215010M | 150mm x 10m | 1.2mm | 2 | 12 rolls / carton |
| VT-4223005M | 300mm x 5m | 1.2mm | - | 6 rolls / carton |
| VT-42230010M | 300mm x 10m | 1.2mm | - | 6 rolls / carton |