VT-700 / VT-701 Silicone Tape - Hi-Temp Self Fusing Silicone Rubber
Description
A versatile, easy-to-use silicone tape specially formulated for emergency repairs. It is self-fusing, waterproof, non-adhesive product with wide range of use. The tape can be pulled to wrap around leaks, forming bond in 30 seconds. It resists weathering, fuels, oils, acids, solvents, road salt and other outdoor conditions.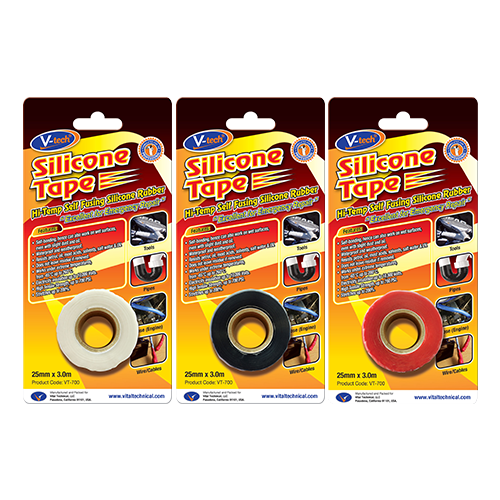 Applications
Overnight emergency repairs and permanent seals

Plumbing system, pipes leaking water, steam or oil

Emergency radiator hose repair

Electrical insulation and cables identification

Bicycle and wheelchair handle wraps for a GREAT non-slip grip!

Marine, aerospace, boat rigging and rod ends

Protection against corrosion

Clamping irregular shapes etc.
Product Information
| | | | |
| --- | --- | --- | --- |
| Product Code | Content | Inner Box | Outer Carton |
| VT-700W | 25 mm x 3.0 m | 12 | 144 |
| VT-700B | 25 mm x 3.0 m | 12 | 144 |
| VT-700R | 25 mm x 3.0 m | 12 | 144 |
| VT-701W | 25 mm x 1.0 m | 12 | 144 |
| VT-701B | 25 mm x 1.0 m | 12 | 144 |
| VT-701R | 25 mm x 1.0 m | 12 | 144 |